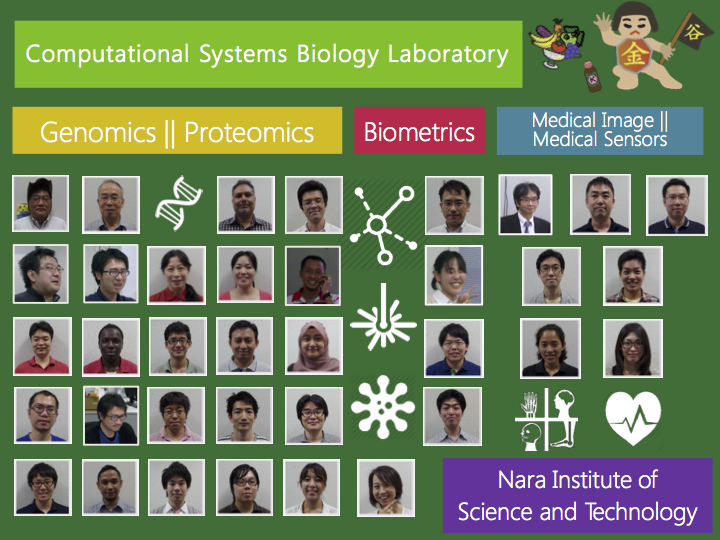 The CSB lab is one of the most diverse groups in the school of information science in terms of both the scope of work we do and members' background. Despite that this occurred incidentally, these factors have become the building blocks of the dreams and goals for this
Lab. This can be also regarded as an evolution of the way research is conducted.
Like many a grad student in NAIST, we are used to being asked what our research is about. Members of our lab treat this question with as much excitement as uncertainty. This is because systems biology is a relatively new area of research. It is exciting to imagine the potential of this nascent field. For example, cancer systems biology is a promising area, which might become the main strategy for building the next generation of diagnostic and prognostic tools for cancer. Another good example of its grand potential is its contribution toward understanding the human genome so far. Regardless of its potential, it still remains amorphous to some extent -and from my personal experience- it is hard to explain to those unfamiliar with systems biology. Most people do not pay much attention to this "grey zone" between biology and informatics. To spread the words about this field we are always open for those who come to us with curiosity, and the willingness to know more about our work.
Our group is made of two main units: the systems biology group and the biomedical engineering group. Each group has their own sub-groups, such as genomics, medical imaging etc. Many would describe our lab differently. Lest we put words in anyone's mouth, we sought to find perspectives of some lab members. While at it we asked what they do and what they find to be interesting in our lab. Here's what they had to say:
Tetsuo Sato:
Assistant Professor,
Biomedical Engineering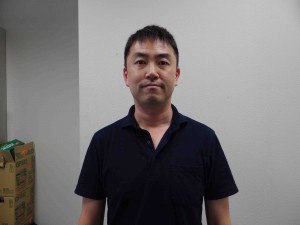 What is your research about?
We develop and analyze image-processing methods. I am interested in imaging technologies for non-invasive medical imaging technologies, more specifically of the heart and the brain.
What is interesting about the CSB lab?
The diversity and breadth of the research themes mean that we can collaborate, share new ideas and thoughts in a way that opens up our minds to new knowledge. We have people from different thematic backgrounds and the union in diversity is one of our key strengths. On the social side of things, the entire group is open and fun. Everyone is active and the aura of the lab is always of a welcoming nature.
Do you have a recommendation to anyone who would like to join the CSB lab?
We pride ourselves in the open nature of the lab. Freedom to learn does not get any better than at CSB and besides, the expertise we have in the different areas means you get useful advice for your research. There is a chance for everyone with an interest and a minimum set of skills to survive the pressures of bioinformatics and biomedical engineering research.
Tetsuo Katsuragi
Doctoral student D3,
Systems Biology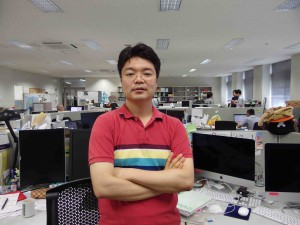 What is your research about?
My work is about simulation of metabolite concentrations in plants. Before you get scared of the jargon, I simply want to say that I try to use computational techniques to cover an area of plant metabolomics that would be hard to do experimentally.
What is interesting about the CSB lab?
There are a lot of foreign students and staff from different cultures so we get to learn about each other. Besides this, we have a lot of informal gatherings like a famous Friday "Nabe party" which has become a platform to discuss details, all about work and social matters.
Do you have a recommendation to anyone who would like to join the CSB lab?
Few words: Do not hesitate. You will certainly find something to do at CSB.
Eguchi, Dejima and Kawakami:
M1 students,
Systems Biology and Biomedical Engineering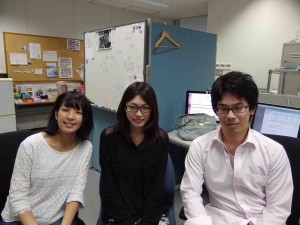 What is your research about?
Eguchi: I am interested in transcriptomics and I am trying to find a niche to begin my research.
Dejima: I am also trying to settle on a research theme, but I am interested in medical engineering especially imaging technologies such as MRI and PET.
Kawakami: Just like my colleagues, I haven't quite settled on a theme yet, but I have some interest in systems biology and genomics of mental illnesses.
What is interesting about the CSB lab?
Kawakami: All members are very kind, interesting and unique. I am already looking forward to the lab trip this summer so I can get to interact more with my colleagues.
Dejima: Guys are nice here. It has been enjoyable and easy integrating into the flow of things at CSB.
Do you have a recommendation to anyone who would like to join the CSB lab?
Kawakami: We welcome everyone and if you pass near my desk, you'll most likely find some "Omiyage" to sooth your stomach as you go about your business at the CSB.
Eguchi: Well, the activity galore would certainly impress you if nothing else does. You've gotta try the "Nabe party" and join our softball team which by the way I heard are the current champions of NAIST softball.
Azian Azamimi:
Research Student,
Systems biology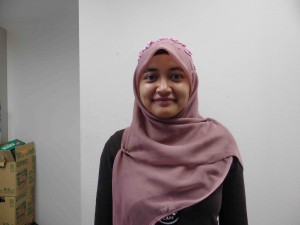 What is your research about?
I am trying to develop a database of volatile organic compounds, some of which are useful as biomarkers of human disease.
What is your experience and impression of the CSB lab?
Since I arrived here, it has been a good experience. As an international student, it would have been hard to adapt when I first came, but NAIST provided a tutor from the lab. He was very helpful to me. CSB lab is also fun because of the many activities and sports we participate in.
What would be your recommendation for anyone who would like to join the CSB lab?
Joining this lab would definitely be a good experience. You will need to have some biology and some computational knowledge to better cope with research here. With this you can look forward to publishing in journals, attending conferences and becoming a better scientist.
What could we possibly add? Enough said.