By Christopher Michael Yap
Taking your education all the way to the PhD level can be a daunting prospect, but what about trying to get your PhD in a foreign country? And what if that country was Japan?
We recently sat down with four PhD students from the "IPLab" (Internet Engineering Laboratory) of the Nara Institute of Science and Technology in order to speak with them in depth and at length about their experience as foreign students pursuing their doctorate degrees from a graduate school in Japan.  As you will see, in terms of personality, career goals and research focus, each of these students is uniquely different from the last. But it's what they share in common that is perhaps most interesting: that conducting research in Japan at NAIST is not only viable, but recommended and fun, too.
"50% Research/50% Business"
Hailing from the country of Senegal in the western-most part of Africa, 1st-year PhD candidate Doudou Fall stands impressively tall at just over two meters in height. This would otherwise be fairly intimidating if it weren't for his oft-sighted gentleman's grin.
Doudou is currently conducting research on Cloud Computing Security especially for Infrastructure as a Service (IaaS) Cloud systems.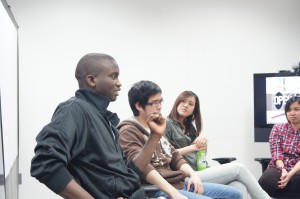 As it turns out, his tastes are equally complex. "I like eating really sophisticated food." he claims in his characteristic baritone.
Aside from being a connoisseur of fine foods, Doudou is also fond of Soccer and Basketball.
"Only happy when it rains"
Jane Louie Zamora (or just 'Louie' for short) is a 2nd-year PhD candidate originally from the Southeast Asian island country of the Philippines, where her early childhood fascination with rain and weather grew into the focus of her current research on using mobile technologies to aid in the early detection of thunderstorms and localized heavy rain.
"Actually, I like looking at clouds," Louie adds emphatically.

 "I actually love playing out in the rain, especially when I was young. But the one thing I like the most about my research is the complexity of weather. And how it is actually very unpredictable, like me" she says mischievously, as though confessing a secret.
"The Legend-to-be"
Karn, short for Sirikarn Pukkawanna, is a 2nd-year PhD candidate from Thailand and a self-styled Legend in the making. Her research focus, network anomaly detection using the more non-traditional, packet-analysis methods could very well be her road to Legend status in the IT field.  However, in true PhD, self-critical form, Karn suddenly reflects on the presumed downsides to being an industry legend: "Actually," Karn proclaims,"I don't want to be a legend, because you can only be a legend after you are dead, right?"
After a brief discussion about social media living legend Mark Zuckerberg, we were back on track towards Legendary status.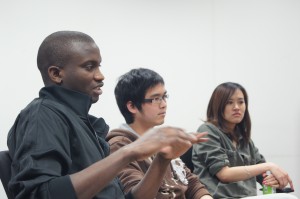 "The Rebel"
Mysterious, soft-spoken, and ever to-the-point, Noppawat Chaisamran, otherwise known by his nickname Pun, when asked if he had any advice to give to prospective students, simply shook his head and merely said, "Please come."
Originally from Bangkok Thailand, Pun is a 3rd-year PhD candidate in the IPLab where is research focus is centered on security of VoIP environments, particularly VoIP Spam and flooding attacks.
Cloud Computing, VoIP security, Network Traffic Analysis, and Mobile Weather Sensing are all fields of study that are as different from each other as the very people engaged in their respective studies. But that simply reflects the wide range of topics and the international palette covered and supported by the IPLab at NAIST. But how can all of these students from these different countries all be doing research in Japan? Surely they have all studied Japanese and understand it fluently. Will it be a problem for prospective students if they are unable to understand the Japanese language?
"I would say that it's not a problem at all," says Doudou in regards to classes. He primarily cites the NAIST International Program, which is composed of classes conducted in English and tailored specifically for international students. "You can take those classes easily and normally like it's in your own country. And even if the classes are in Japanese, you can talk to the instructors directly and they will give you English versions of the class materials and the exam."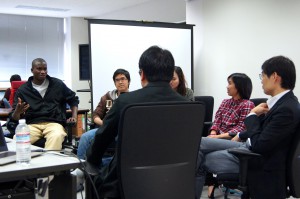 Pun adds, "You don't need Japanese to graduate from NAIST. In my case, because when I was a Masters course student, there was no International Program, and at that time my Japanese was very poor, but I could pass the Masters courses."
But how about needing Japanese language ability for your research? Can you get by without it?
"Yeah, I think you can," says Louie. "But in my case, it would be better to know Japanese words or vocabularies that are related to my work. So if you want your work to be more in-depth, please learn a little bit, it will help."
Karn adds, "I agree with Louie. It's not a problem because you can still do research. You can speak in English with the professor about your research, or other people in the lab. It's not a problem if you want to do research here."
Alright, so we've established that being fluent in Japanese is definitely not a requirement to be able to conduct graduate-level research in Japan. So, on to the next question: what is it really like here at NAIST?
"The professors here are very open, and actually that's what surprised me first" says Doudou. "Before you come to Japan, the thing that you hear about is that the professors are kind of inaccessible, but I realized that our professors are totally different. They want you to talk to them, and they encourage us to be very creative and proactive with our research, to share with everyone so that we can get advice and new ideas from everyone. That kind of cooperation is helpful for your research."
Pun adds, "I think that NAIST has very good, well-maintained facilities, and there are a lot of experts from many fields who can help me to fulfill my research goals."
On this point, all of the interviewees seemed to nod and agree.
"NAIST is the top-ranked national graduate school in Japan," says Doudou. "They have many specialists, and after starting to study here, I realized that I will have a solid skill set and research profile by the time I graduate from NAIST."
"It deserves to be #1," adds Louie. "In terms of papers published, there are lots of people coming from NAIST. And they are from really good conference proceedings and conferences."
So, we have established that NAIST is both and ideal place to feasibly conduct research in Japan, but what sorts of things have been learned or skills gained from being in such an ideal research environment?
Louie believes that the biggest thing she has gained as a result of being a member of the IPLab at NAIST is a greater tenacity and adaptability for her research focus. "You have to stick with what you want to do, but at the same time, you have to be flexible, to be able to adapt to the changes especially in your field of research. It can be really fast-paced, and just in a matter of months it's a different technology again, so you have to adapt yourself to that."
Karn has gained a wider awareness of the uses the research environment and culture.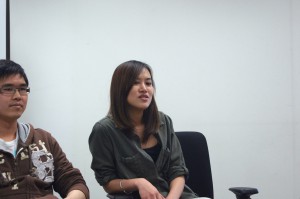 "I think that if you have a collaboration with another student, then that's a good thing, even if that student's research is related to your work or not. For example, even though Louie is researching weather forecasting, and it's not related to my field of anomaly detection, we can exchange ideas, comments and input that could be useful for giving each other more creative ideas about our own fields."
As for Doudou, he feels he gained a great deal of research experience, in terms of how to conduct research properly and being able to think creatively. "The first thing I said when I came to this lab was, 'I've never done research before'. But that's the thing you gain. I'm on my third year here and I gained a lot of research experience. In the beginning, I didn't know what I was doing. And the first thing they told me was 'think big' and I learned how to be creative in research and in life in general."
So as you can see, all the foreign students currently enrolled as PhD candidates at NAIST's IPLab are alive and well. With the support of NAIST's International Program for courses and the rich research environment provided by one of the top graduate schools in Japan, these students are not merely getting by; in fact, they are thriving.
"And," Louie hastens to add, "We are having fun, too."